Horse of the Year Awards
Fabulous night celebrating our own Pik L's Donabella's Horse Of The year award with an amazing group of friends and peers. Thank you to the entire USEF/USDF team, organizers and volunteers for yet another successful year and event. I am incredibly thankful for my entire team and sponsors who have supported us through our journey from the very beginning. And last but not least, Donabella. My heart horse and partner. You have challenged and forever changed me as a rider and I am extremely grateful for each and every day we have together. Bring on 2019!!!
Donabella - Horse of the Year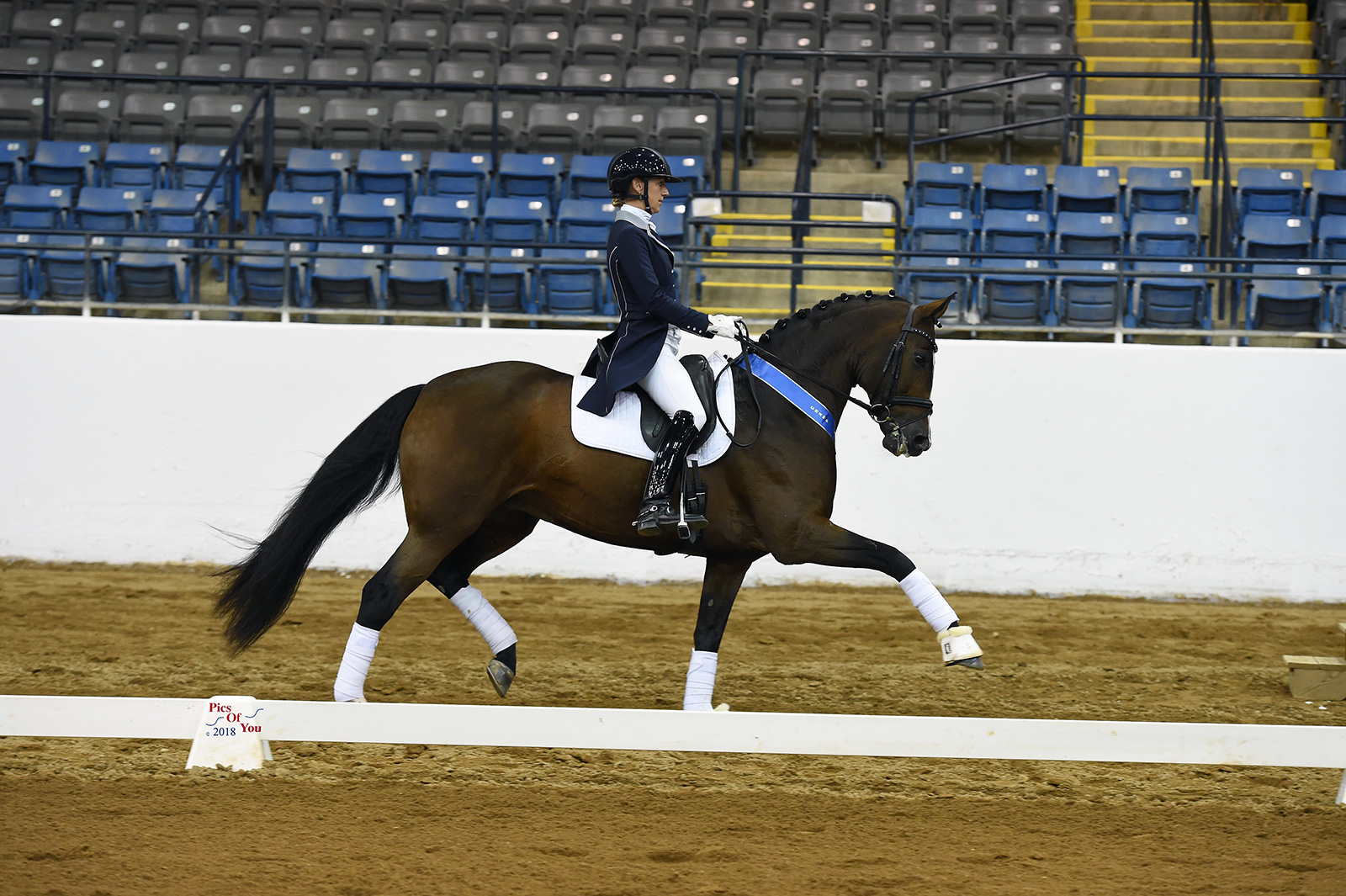 So proud of our own Pik L's Donabella for winning Horse Of The Year at the Prix St Georges level with a median score of 74.559! Such a rewarding milestone in our journey together! Thank you to Anne R Sparks of Horses Unlimited for breeding this special mare and to our entire team at Elite Expression Dressage and generous sponsors for keeping us performing at our best!
Region 1 Championships
What a successful week at the Region 1 Championships for our whole team! The week started off strong with a win in the Intermediaire 1 practice class for Shannon and Pik L's Donabella with a score of 70% This pair went on to win the Open PSG Championship class with an overall score of 72+%! On the final day, they put in a conservative and safe ride in hopes of creating a positive experience in the Coliseium and ended up Reserve Champion! Donabella was also rewarded the High score FEI award for the entire show and was also later honored with the Mary Beth McLean Memorial Perpetual Trophy.
Show Ring Successes!
Another fabulous competition in the books! Karen M. Fitzgerald's 4 year old Flare was an absolute star as she made her debut at Windy Hollow Hunt and won both of her classes!! Flare put in 2 stellar performances with loads of room for development with scores of 75+% EED's own Pik L's Donabella made her debut at I 1 and won with a 70+% EED's Labatuga M also returned to the show ring for the first time since the Florida season to win the the I1 as well!! Feeling very fortunate to have the ride on these special horses!! Thank you to all of the show organizers and my talented team and sponsors that keep everyone preforming at their best!
Winning Rides for Bella!
May 22, 2018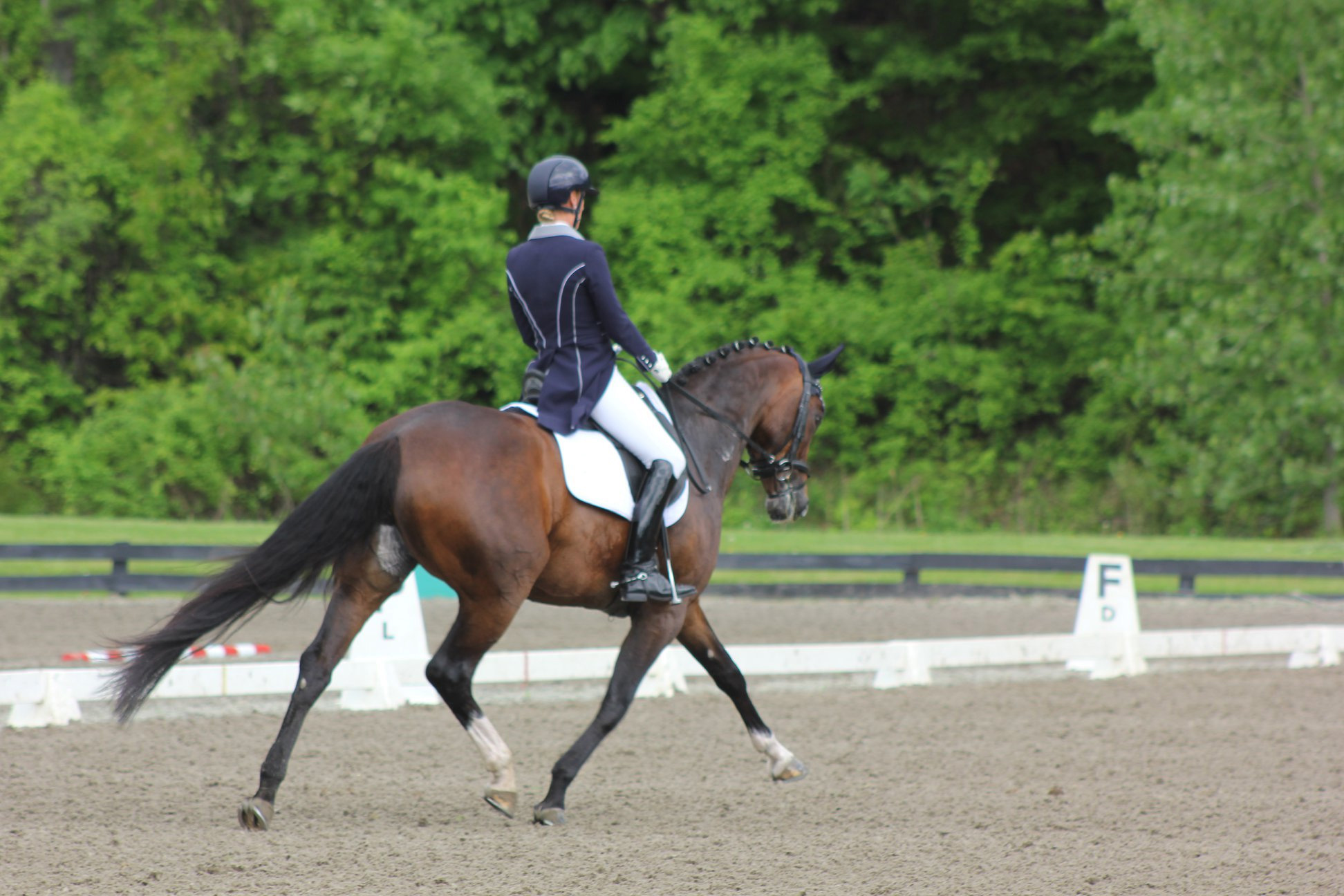 What a weekend at the Centerline Events at HITS! The weather was less than ideal, making for challenging cold and wet conditions but I could not be more happy with EED's own Pik L's Donabella!! "Bella" put in 2 winning rides in both the PSG and the Developing PSG with scores of 74.5% and a 74.6% It has been quite a journey with this special mare but I am really excited to further develop and improve on our work! Thank you to my entire team for enabling and empowering our journey and keeping our operation running smoothly back at home!
Wellington End of Season
Fabulous end to the season here in Wellington. Our own Pik L's Donabella obtained her first qualifying score of 75+% in the Developing PSG with Shannon and came back the following day to win the PSG with yet another 75+%! So rewarding to have backed, trained and developed this horse through the years.
Off to a Great Start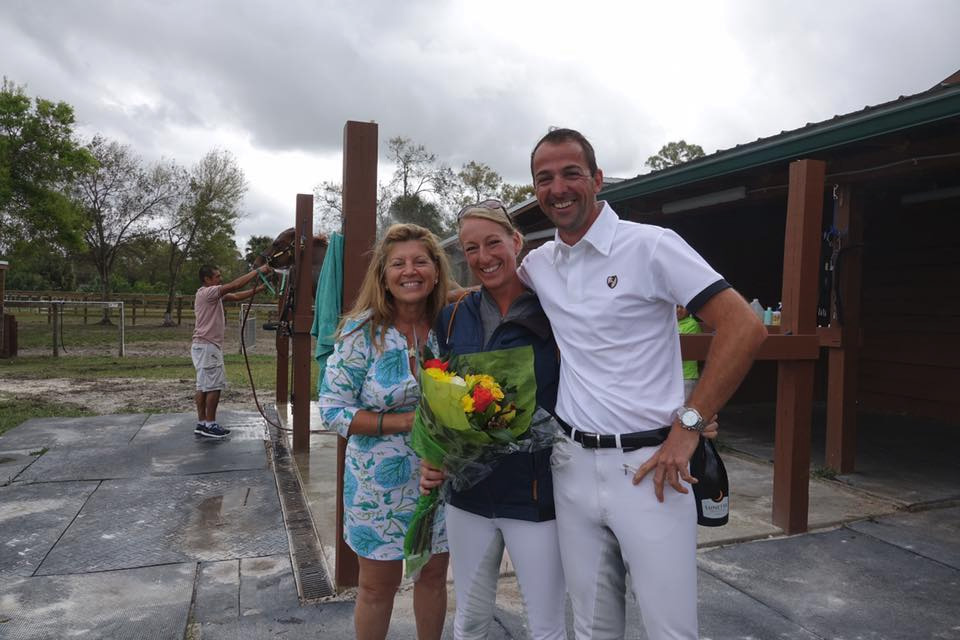 What a start for team EED 2018 season! Marcus and Shannon kicked off the weekend, each with winning rides in the small tour in competitive classes. Marcus rode client owned and newly partnered, Equestricons Bolita for the win in the PSG and the Intermediare 1 with scores to 73+ % and was awarded FEI high score winner. Shannon rode Elite Expression's own Labatuga M for the win in the I 1 with 71+%! Thank you to the show organizers and officials as well as our entire team, both EED North and South as well as everyone who came out to support us and our horses and helped create such an enjoyable and successful weekend! Onward!
2017

Dressage at Lexington

That's a wrap! Dressage at Lexington Virginia was a huge success on many levels! I couldn't be more happy with EED's Labatuga and Donabella. Not only did they return with blue ribbons in their classes but it was a really positive experience for both horses all around. Donabella conquered her fear of the indoor coliseum and put in two good tests in the PSG and Developing PSG. Each day she grew more relaxed and finished out the weekend with a win in the developing PSG. This was only her second time out at the PSG and I'm excited to see how she develops and progresses! Labatuga was an absolute star, winning both the PSG and I 1 with scores each day over 70%! In addition to being able to spend time with these great horses, it was wonderful to catch up with old friends that I haven't seen in quite a while. Thank you to my wonderful team, both at the show and at home for enabling me to enjoy this wonderful journey and to Marcus for his dedicated support and coaching at home.

2016

USDF Dressage Nationals

What a fantastic week at the USDF National Dressage Finals in Kentucky! I could not be more proud of both my personal horse, Pik L's Donabella and EED sale horse, San Marino. With a winning ride in Fourth level aboard Donabella and two other top five placings in the country with scores of 71.1% and 73.1% in Third and Training levels respectively, to say I am pleased would be an understatement. Thank you to everyone who helped to get us here, without my team none of this would be possible and thank you to all the show organizers and volunteers for running such a fabulous competition.

Dressage at Devon

Dressage at Devon was also a success for team Elite Expression Dressage. EED sale horse Dulce, a 3 year old Oldenburg mare was truly impressive not only with great scores but also in the unflappable and relaxed way she presented herself in the electric atmosphere. It was an absolute pleasure to have the ride on this beautiful young horse and she is definitely a wonderful prospect to watch in the future.

Region 8 Championships

It has been a whirlwind of extremely busy but successful competition for Elite Expression Dressage. EED sale horse San Marino won the Region 8 Training level Championships in a large competitive class and was invited to compete in the upcoming National show in Kentucky. San Marino's willing temperament and unflappable disposition was really highlighted and it was an absolute pleasure taking this special horse down center line.

Horse Park of NJ

Very successful day at the Horse Park of NJ! I could not be more happy with our personal mare Pik L's Donabella and Angel's San Marino. Donabella won both her third level classes with scores to 73% and was overall third level champion and San Marino won both his training level classes with scores to 82% and was overall training level champion. Both horses were so focused and relaxed and really let me ride them in the ring. Thank you to the organizers and management for a wonderful day and to all my friends and clients both supporting at the show and at home to make it all possible!

HITS & Horse Park of NJ

Two successful back to back weekends showing at HITS and the Horse Park of NJ for our EED riders. Our Junior rider, Emily Meeter put in great rides in the individual and team tests with blue ribbons both weekends and earned her personal best score! EED sale horse Shyriana earned her second score in the FEI 6 year old test with scores over 80% with Marcus! Angel Fahy's young horse, San Marino won his class with an impressive 80% with Shannon in their second outing together! It is so rewarding to see all of the growth from both our horses and riders, what a team!

2015

Marcus Orlob and Shannon Stevens Train Youngsters up
to

FEI

Grand Prix - DressageHeadlines.com

Most important to husband and wife dressage training team Marcus Orlob and Shannon Stevens is that their clients achieve their goals. The couple's full care training facility, Elite Expression Dressage, is a serene environment with a round pen, outdoor and indoor arenas and ample turnout that enhance each rider and horse's personalized training program. Management is meticulous with both the horses and care of the facility. With a customary count of around twenty-five participants, goals are consistently met.